PLAY
Geisha and Maiko transformation experience
Awaraonsen Sta.
Awara City, Fukui Pref.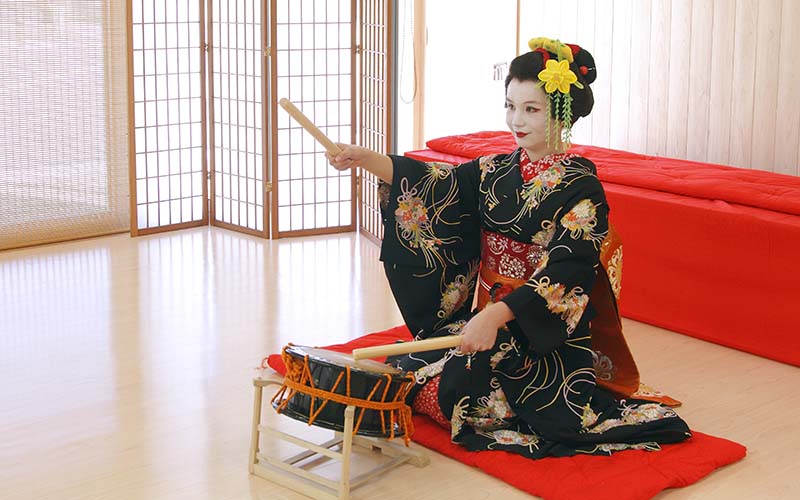 For 130 years, Awara Onsen has been Fukui's top hot spring resort town.
At the Traditional Performing Arts Hall, visitors can dress up like a geisha, and even try traditional geisha entertainment like taiko drumming and ozashiki party games, taught by a real geisha.
Traditional Performing Arts Hall: Take a bus from JR Awaraonsen Sta. (16 min.) or take the Echizen Railway to Awara-Yunomachi Sta.. Located across the street from Awara-Yunomachi Sta..
Awara Tourist Information Center: Located at Awara-Yunomachi Sta. — take a bus from JR Awaraonsen Sta. (16 min.)
+81-776-78-6767
Traditional Performing Arts Hall: 1-203 Onsen, Awara City, Fukui
Awara Tourist Information Center: 1-1-1 Onsen, Awara City, Fukui
Dress-up experience 9:00-11:30, geisha entertainment available 9:30-15:30 (session length: 2 hr., 30 min.)
Dec. 28-Jan. 5
Dress-up experience 13,000 yen, geisha entertainment 3,000 yen (includes tea and tea sweets)
36.224127051255344, 136.19273515299693
Access
Tel No.
Address
Hours
Closed
Fee / Price